Electroplating Control System GalvaCom
GalvaCom is a specialiced electroplating control system that is intuitive in operation and clear to follow on screen. GalvaCom is a mature, flexible system with logging and the reliability that prevents down-time. Its easy management of the items and the plating formulae go without saying. And the program makes it possible to set any tolerance desired and any length of time in treatment tanks; also, automatic current density correction – all within outside limits that can be preset – bringing genuine advantages to surface treatment companies. For the Quality Manager, the data capture and log files (to the ISO 9001 standard), the networkability, the interfacing with industrial warehousing programs all support QA, so that shift logs, conveyor logs and error logs can be used efficiently across the whole manufacturing site. And as a result quality rises, efficiency increases and equipment breakdown can be managed flexibly.
The advantages of using GalvaCom:
software that is intuitive in operation and clear to follow on screen
comprehensive logging and quality assurance functions
downtime-reducing reliability in both plant control and data back-up
computerised optimisation of parts conveyors and throughput
high adaptability to changing production conditions
simple and easy extendability and integration in to the company networks
ICOM's experience and know-how have made GalvaCom a favourite software that has always fully satisfied our customers.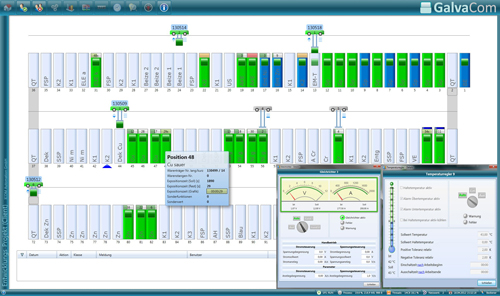 ICOM's flagship program GalvaCom is the means of controlling automatic plating plant, fine-tuned to the latest surface treatment equipment.